Two years ago, in May 2019, we published our article "The PayFit Product Machine", telling the story of the Product at PayFit, from the creation of the JetLang language at the launch of PayFit in 2015, to the opening of our fourth country, the United Kingdom.
Four years condensed into one article was ambitious enough. It's time to summarise the last two years on the Product side of PayFit, from May 2019 to May 2021 - and believe me, it's almost as ambitious!
The Product at PayFit in May 2019...
Let's sum up where we were at the publication of the previous article:
A success that was confirmed day after day: 2,500 customers in 4 countries (Germany, United Kingdom, Spain, and France),
A team that was already well developed: 240 PayFiters in total, including 65 on the Product side.
Within the Product team, the recent creation of the Product Marketing, Product Ops and Product Design teams.
…and where we stand as of May 2021.
The success continues: more than 5,000 companies trust us, in 5 countries (Germany, United Kingdom, Spain, France, and now Italy).
350 new PayFiters joined the adventure between May 2019 and May 2021, including 100 on the Product side.
We learnt a lot following the ordeals we have been through since March 2020. We have improved our product and our services so that our customers are more autonomous day-to-day. We have also improved our internal organisation, and automated many processes so that every minute spent with customers is focused on tasks that add more value to them.
The Product teams have been reorganised, with the creation of new teams  (Design Studio, more focused Product Ops, Architecture, Robotic Process Automation team, Developer Experience, etc.).
Numerous new work methods have been put in place on the Product side to support our hypergrowth: annual OKRs, Double Diamond, Strategic Discoveries, user testing, user research, Design Thinking workshops, our own Product Initiative Briefings and Deliverable Cards, etc.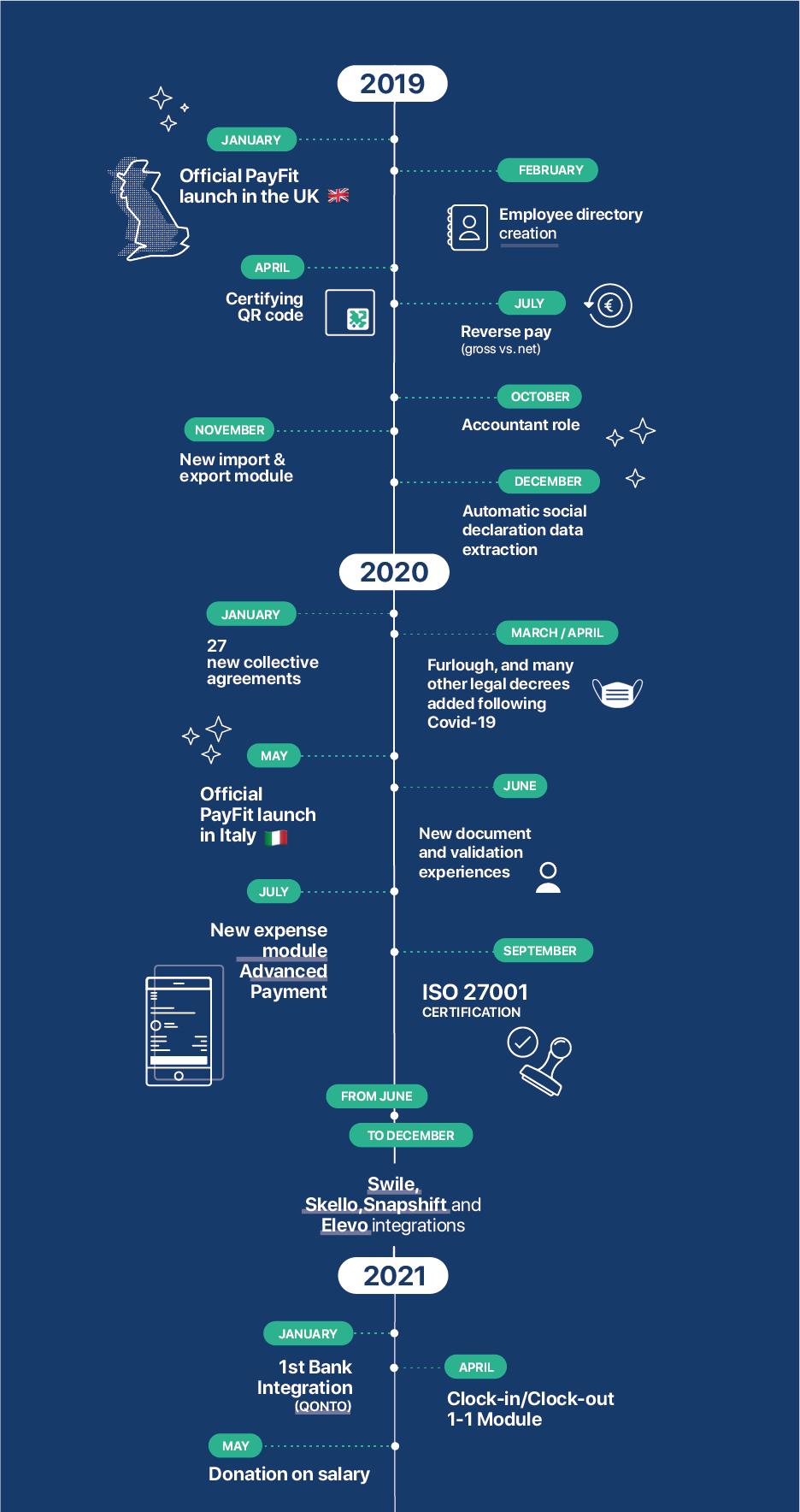 This evolution is the result of continuous work to meet our objective: to support the digitalisation of payroll and human resources for European SMEs. This goal implies very high ambitions on the product side.
In this article, I will share with you the biggest changes we have made between May 2019 and May 2021.
A challenging year 2020, bringing a lot of learning
In March 2020, as the pandemic grew in Europe, we decided to close all our offices in Europe, a few weeks before governmental lockdown recommendations. We went from being remote-friendly to remote-first, before moving towards a Work From Anywhere policy.
Like many other companies, we had to adapt our strategy, priorities, plans, targets, and recruitment to the new economic context.
This unprecedented crisis has been a real confirmation of the power and agility offered by our low-code platform, JetLang. Thanks to it, our Product Teams in each country were able to quickly implement a very large number of laws enacted by the States - sometimes with very short delays between the official publication of the law and its implementation.
To put it more clearly with a specific example:
At the beginning of March 2020, the PayFit app simply did not handle partial activity.
By the end of that month, our Product teams had already coded several dozen decrees related to partial activity, allowing more than 2,000 customers to do their payroll correctly,  taking these new regulations into account.
From March to August 2020, our local teams were very committed to the integration of decrees revolving around three themes that were accelerated by Covid: partial activity, exceptional leaves of absence (illness, isolation, protection, etc.) as well as pay deferrals and assistance with the payment of social security contributions.
Out of more than 600 texts and announcements published during these six months, 81 had a direct impact on the PayFit product. More than a quarter had to be coded into the product in the space of a few weeks in March and April. This continued at a reduced pace throughout 2020, and we expect to see many more updates throughout at least 2021.
Thanks to JetLang and the unfailing commitment of our Product Builders and all the teams linked to the product (in particular the Legal teams), we were able to accompany our customers as closely as possible during this very stressful period.
Our teams also had to deal with a surge of requests for explanations in addition to the regulatory adaptations. Between March 1st of 2020 and June 30th of 2020, more than 20% of the tickets we received were related to the health crisis (i.e. 5.500 tickets in 4 months, the equivalent of one month's worth of tickets at the time).
A challenging year, then, and once again I would like to thank our support teams for their responsiveness to the many requests from our customers.
Now, without further ado, let's dive into the details of the changes we brought to the Product team since May 2019.
Growing while retaining our ability to innovate quickly
Evolution of the Product organisation
Up until 2019, the Product team was small enough for all its members to master the entire technical chain - especially as we had relatively low technical complexity compared to nowadays. At the time, it only took a few days for everyone involved to get to grips with a new subject, a few weeks at most.
The cost of changing topics is quite different once the team has reached a certain size, and the technical complexity has increased. When this cost is greater than the added value of having multi-skilled team members, agility is no longer possible. Technical expertise is quickly lost, and the time spent appropriating a new subject and making it move forward becomes disproportionate.
It is therefore necessary to specialise and create groups of experts who can rapidly iterate in their field. This is the objective of setting up an organisation in tribes and squads.
Furthermore, our product ambitions are such that we do not want to operate in a centralised manner. This slows down the decision-making and the pace of development of all our projects. There is a real challenge to give maximum autonomy to the teams.
We want each team to consider themselves as an autonomous start-up within their own scope, with the means to create and develop their product rapidly thanks to feedback from their users.
However, cross-functional issues remain, and it is important to establish a system to manage them effectively. We do this in two ways: on the one hand, through expert teams who take full ownership of their domain, and on the other hand, through standardised operations across all teams.
How we reorganised the PayFit Product team
The PayFit product team is made up of two key groups:
Local Product teams (Product France, Product UK, etc.), consisting of 55 PayFiters who manage the country-specific part of the product -- i.e. payroll itself;
Global Product teams, consisting of 110 PayFiters who manage the experiences that are common to all countries - i.e. most of the HR bricks outside payroll. In addition, the Global Product team supports the local teams in their mission with tools, processes and expertise (SRE, architecture, user research, etc.).
We started by completely reorganising the Global Product team in the Summer of 2019, with three main objectives:
Increasing expertise: introduction of the Triforce concept (Designer, Software Engineers, PM) at the head of the tribes and squads, and acceleration of recruitment following our Series C.
Increasing efficiency: minimising dependencies between teams to further parallelize developments, while ensuring consistency through the establishment of a team of experts to refer to on key issues, such as architecture and design system.
Ensuring alignment: giving teams more autonomy goes hand in hand with putting in place a system that ensures consistency in the final outcomes delivered to our users. We have therefore invested in the implementation of roles (Product Ops, Tribe Managers) and processes to reinforce the culture of alignment.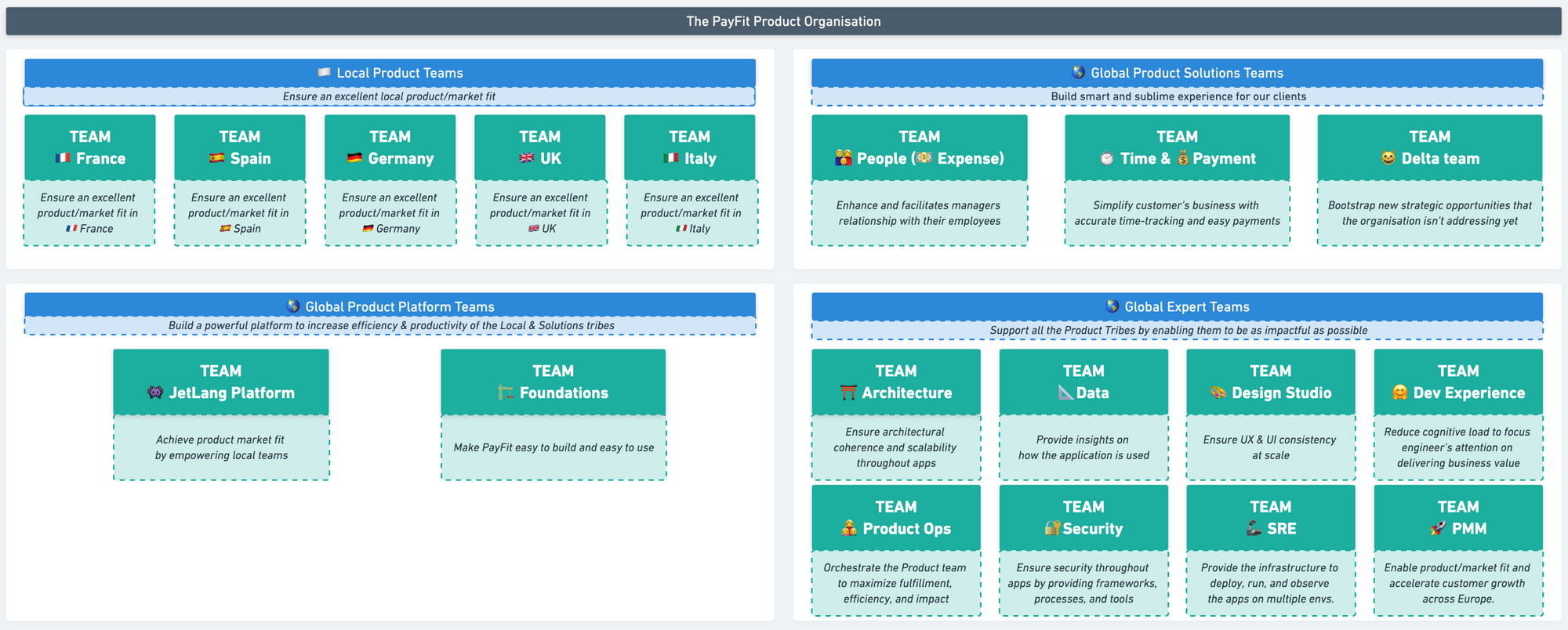 Thus, from a team composed mainly of engineers, product managers, and designers who were very agile and cross-functional, we moved towards an organisation with more specialised and clearly defined roles and missions.
Similarly, a year later, the French Product team reorganised itself by ensuring that each team and each Product Builder had a clearer sense of their area of responsibility. This change occurred when this team passed the 25 Product Builders mark.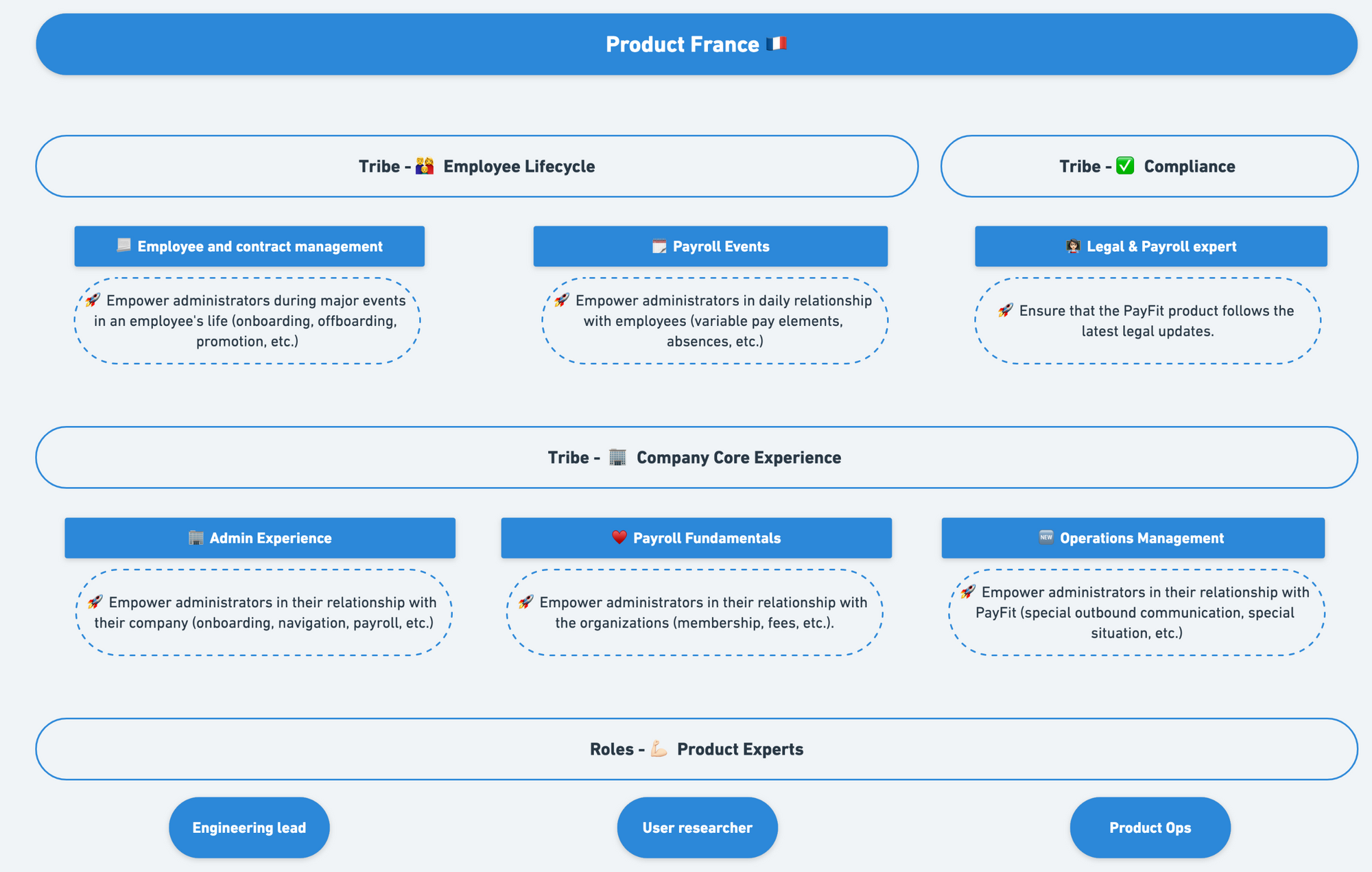 Operating in autonomous tribes and squads
I have mentioned "tribes" and "squads" several times. This is indeed a new concept introduced after my previous article.
Since 2018, we've partly adopted the much-debated Spotify model, breaking our teams down into thematic tribes (Tribes) composed of dedicated teams (Squads).
For example, the JetLang Platform tribe, dedicated to our internal programming language, is composed of several squads, such as Tooling, Workflow, Runner and Data & Compute.
We've also been inspired by the Team of Teams model, which allows us to go further than Spotify's model, with an organisation based on autonomous teams that are all connected to each other.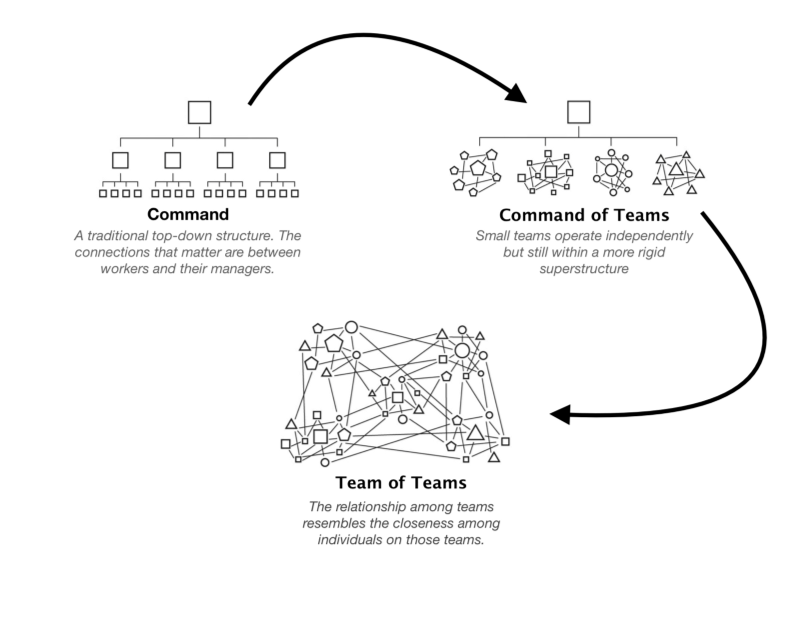 This way, we set up dynamics and bridges between all the teams so as to avoid silos, while having a massive, evolving and structured organisation, with very autonomous entities, each within its own scope.
The Triforce concept
Starting in 2019, we have implemented the Triforce approach at all levels of the Product organisation.
The Triforce approach, made popular by Airbnb, postulates that a company can only make a real impact if the three pillars of Engineering, Design and Product Management work very closely together, rather than one pillar taking precedence over the other.
Thus, in each squad, there is a team of engineers backed up by a triforce: a product manager, a product designer and an engineering manager.
The same organisation applies at the tribe level, with a director for each pillar, who manages the triforce of each of their squads and ensures alignment.
Finally, at the VP level, there is also a triforce with the VP Engineering, the VP Design and the VP Product, managing the triforce directors.
Among the benefits of the Triforce organisation at each level, we have noted a better synergy between the teams, an increase in their decision-making power, a stronger commitment to the success of their projects, a greater sense of fulfilment on a daily basis, and the higher quality of their outcomes.
The benefits of a better team organisation
The reorganisations of the Global Product and French Product teams have had two major beneficiaries.
First and foremost, our users.
Quite simply, they have seen the PayFit product evolve faster, and with greater reliability. Innovation has increased tenfold thanks to initiatives from the teams themselves.
Secondly, the product team members themselves.
Ownership and autonomy were strong driving factors in these reorganisations.
The fact that PayFiters take full ownership of their subjects and become experts in their field, in a way that is close to a start-up within PayFit itself, means that they are able to project themselves onto a project over the long term.
Moreover, the impact on the satisfaction of these teams is also very strong: to put it simply, they are proud of their work. In fact, the reorganisation has greatly increased their well-being.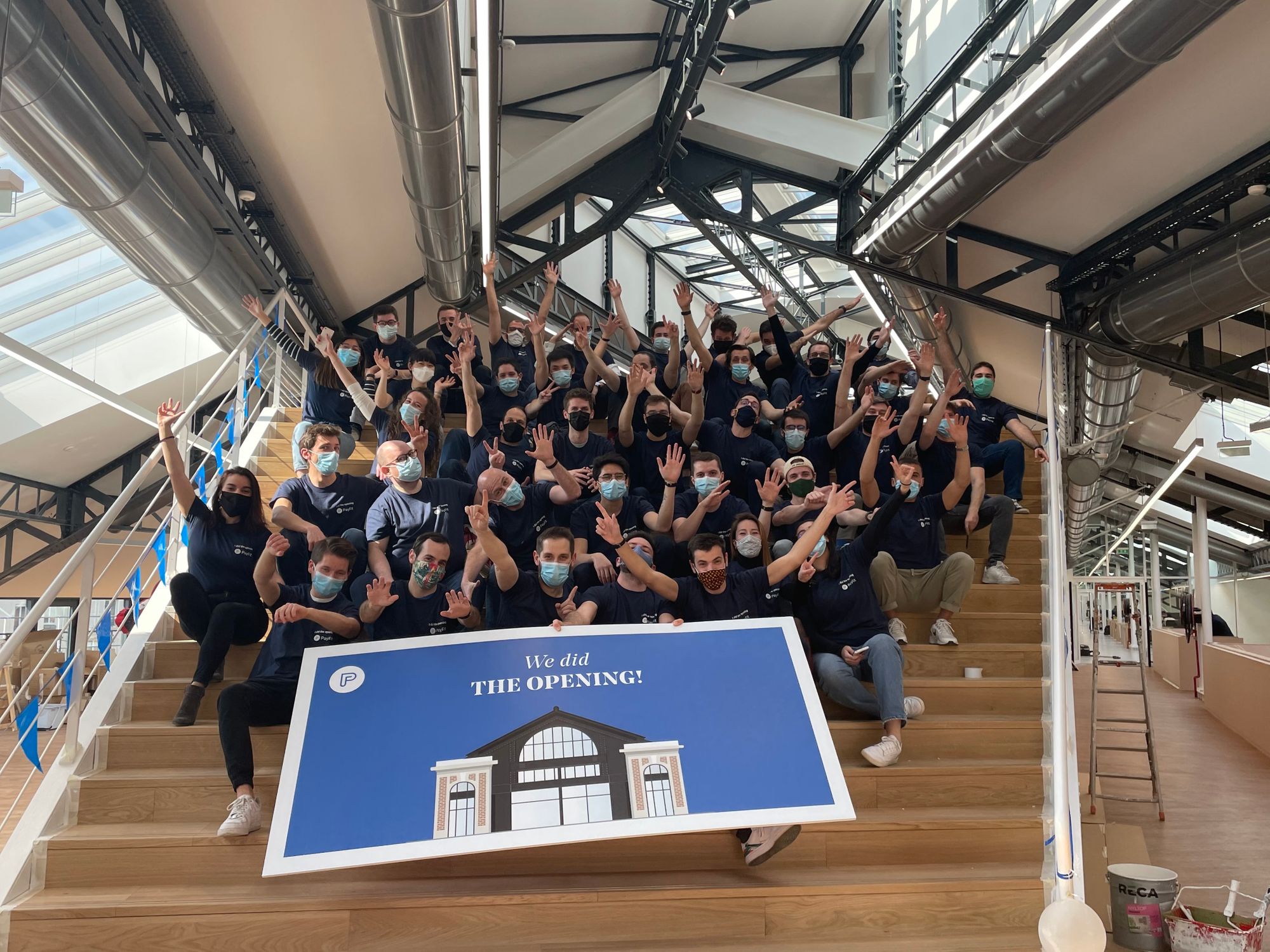 Empowering teams
By now, this organisation is well established within all teams, global and local, and we appreciate the results every day -- as do our users, with whom the product teams interact on a weekly basis.
This reorganisation was an ambitious project, and part of its success is undoubtedly due to our commitment to three fundamental pillars:
Empowering expert teams,
Promoting alignment processes, to ensure good cross-team collaboration,
Taking care of the development of those who are part of these teams.
Expert teams
Let's start by highlighting the expert teams that have emerged in the past couple of years:
Product Ops acts as the control tower of the product organisation to maximise its effectiveness. This team also ensures the consistency of the Product approach at scale (automation and tooling), including collaboration between global and local teams;
Product Marketing Management encompasses many responsibilities, such as communicating new product experiences internally and externally, and conducting strategic discoveries hand in hand with the product teams to design new user experiences;
The Design Studio, in charge of maintaining the consistency and quality of the user experience. This involves UX expertise, user research and a design system that serves the entire product organisation, as well as close collaboration with other departments, in order to make the customer experience more streamlined on key paths;
The Architecture team, which ensures the scalability of technical choices made throughout the organisation and builds a cross-functional technical direction that meets the needs identified for our various products and our growth ambitions;
Product Data , tasked with providing each team with the most important data enabling them to take the most appropriate decisions independently while maximising their impact on our users;
Developer Experience is in charge of facilitating the adoption of the technical stack and its daily use by each software engineer at PayFit;
The Robotic Process Automation squad, which automates the most repetitive tasks that cannot be handled through an API.
Functional processes
Let's talk about the standardised processes that we have put in place within the teams.
We want to keep them to a minimum so that everyone remains autonomous, in order to retain the feeling of a "startup" within PayFit for each team.
In order for PayFit's "Product machine" to continue to operate as efficiently as ever beyond 150 people, we needed to set up its operating system. The purpose of this system is to guarantee a good level of alignment with a minimum of process.
Ensuring alignment
Autonomy can only be achieved by successive declinations of a global vision.
That is why PayFit's Vision and Mission are clearly communicated to PayFiters when they join the company, and further developed throughout their life at PayFit, especially during the events that bring us all together (annual Summits, internal conferences, Product Keynotes, company-wide launches and reviews, etc.).
Our vision can be summed up in a few words:
"Make work a source of fulfillment for everyone".
This results in our two missions:
"To help millions of people have a fulfilling work experience".
"To build a strong and fulfilling workplace culture for PayFiters".
From there, we have annual OKRs at PayFit organisation level, which are then broken down for each country and department. This allows us to clearly define the objectives and key results associated with the different entities, as well as to link the objectives of each department to the objectives of PayFit.  
Working on annual OKRs requires upstream work from each team in order to build a plan for the next 12 months with a high level of confidence.
We first start with a bottom-up approach, where each team comes up with a proposal for their annual roadmap. We then build an annual product strategy from all the individual roadmaps. This strategy is built with all Directors and Heads of Product.
Once in place, the annual product strategy then feeds into the discussions on PayFit's annual strategy for the year ahead, which in turn is discussed with the entire leadership team.
Finally, the last phase of Product alignment is the Product Initiatives Briefings (PIB). Adapted by PayFit from the Auftragsklärung system created by the Xing team, PIBs make it possible to define the broad outlines of a project (problem/opportunity, intentions, iterations, stakeholders, measures of success) in order to ensure that all stakeholders are in agreement on the ins and outs. In short, they are alignment documents.
Monitoring the development of the various initiatives
Once this alignment phase is complete, the projects begin, and it is important to ensure that progress is monitored - a monitoring process orchestrated by the Product Ops team.
This monitoring is based on breaking down initiatives into clearly named and defined milestones. We use two tools to do this.
First, the Double Diamond. At the heart of the PIB lifecycle, the double diamond process (created by the British Design Council) was originally intended for design projects, and has been widely adopted by the Product Management and Engineering teams at PayFit because it clarifies things so well. It allows us to build user-focused solutions, and to eliminate as much risk as possible from initiatives before they go live.
This model assumes that a project is made up of 2 main phases, which in turn are made up of 2 sub-phases: Research (discovery then definition) and Development (design then delivery). The "problem definition" links the research and design phases.
The Double Diamond is now an integral part of PayFit's projects, and this is fortunate: the discovery phase is never forgotten, and it prevents poorly researched projects from entering the costly development phase.
Last but not least, the bulk of the tracking relies on Deliverables Cards. PIBs quickly proved their value, but did not meet a need for detailed project tracking: understanding what each team was going to deliver, and when.
So in June 2020, the Product Ops team introduced "deliverable cards", allowing them to address this need accurately, with weekly reminders and dedicated coaching.
Each PIB aligns the stakeholders around a project, whatever its size, and this project is broken down into as many "next actions" as necessary, each giving rise to a deliverable. This deliverable is the concrete result of the action carried out, allowing a complete and time-bound follow-up of the progress of the stages of a project.
Despite the "Russian doll" aspect of these processes, which may seem counter-productive, the result was a Product organisation that was not dependent on individuals and could finally free the creative spirit of each team while being extremely productive (in the noble sense of the term), all with clear visibility for the rest of the organisation.
Experience has shown us that this is the minimum process for our size to ensure both the coherence of everything that is done, and the autonomy of each individual.
The well-being of our teams
Being a PayFiter means first of all to embody values that we want to be universal: Excellence, Passion, Humility, and Care are strongly anchored in all the key aspects of a PayFiter's work life.
This is where PayFit's second mission statement comes in, after "Help millions of people live a fulfilling work experience": "Build a strong and fulfilling workplace".
We actively seek these values in our recruitment, and they are part of our quarterly performance reviews.
In order to maintain transparency within the company, every 2 weeks we organize a meeting with all PayFiters. This is an opportunity to present the most important new features of PayFit. All PayFiters can ask questions and even vote for questions from other PayFiters to make sure that the ones that interest the most people are answered first.
More specific to the Product, we organise quarterly Product keynotes with all PayFiters to concretely present the evolutions of the next 3 months and take the time to clarify our team strategy for each PayFitter.
Professional growth
Being part of PayFit should be a unique opportunity for the PayFiter to give the best of himself/herself but also to grow thanks to the diversity and competence of other PayFiters.
It is also a great playground in terms of professional development with the multiplicity of roles and opportunities offered in this context of hyper-growth.
In the long run, we believe that the best way to thrive is to live these four values to the full: excellence, passion, humility and caring.
To ensure that every PayFiter grows with every month at PayFit, we launched a major project in 2020: the definition of career paths for most roles within PayFit.
From trainee to VP, the majority of PayFiters now have access to their career path within the company, whether they are staying in their current role or looking to grow out of it.
With over 500 PayFiters and an organisation that offers both local and global opportunities, we have chosen to allow those who want to boost their career to be able to change roles, teams or even jobs. PayFit benefits as much from these developments as the PayFiters do.
As a result, we have seen a PayFiter move from Sales to Customer Care Manager, or another from Customer Care Manager to Product Builder, for example. It's great to give employees and colleagues the opportunity to grow professionally!
In addition, we have set up a mentoring system that allows each PayFiter to have personal support in addition to his or her manager and thus grow professionally more quickly by benefiting from the diversity of profiles that we have in the Product organisation. Built on a voluntary basis, this system is very effective in allowing each person to learn from other more experienced profiles or from other professions.
We also encourage geographical mobility between our 5 offices in Europe: Paris, London, Berlin, Milan, and Barcelona. This allows each PayFiter to change cities and living environments if they so wish, and even to change jobs.  In particular, we created a Global Product Hub in Barcelona in early 2020. This allows parallel recruiting between Barcelona and Paris and to offer very easy geographical mobility for Engineering, Product and Design profiles.
Work from Anywhere
On 14 March 2020, due to the worsening health crisis, PayFit chose to close all its offices and impose mandatory remote working on our 500 employees.
Two months later, we started to have internal discussions about the future of work, and flexible work, with managers and employees.
This resulted in PayFit implementing a remote working policy:
Employees can now work from wherever they want; office attendance is no longer mandatory. PayFit retains all its offices and these remain a place where employees can choose to work if they wish, and a place where employees can meet and socialise.
Working hours have also become flexible. Employees can now choose their working hours and organise their days so that they work when they feel most productive.
You can read more about how we built and implemented our Work From Anywhere policy (article by Caroline Leroy, our VP People).
Suffice to say that it's a massive success: several PayFiters have chosen to move out of the city and live greener lives thanks to this policy. Likewise, we have been able to hire strong talents without requiring them to move to Paris.
Diversity and inclusion
A final aspect that is important to the well-being of our teams is diversity and inclusion (D&I). Having teams that reflect the realities of the world, and especially those of our customers, is extremely important for PayFit, especially for the Product.
It is a proven fact from many studies that diversity in tech/product/design teams :
increases their efficiency thanks to a better capacity to innovate,
increases product quality,
reduces the risk of unconscious bias,
improves the professional fulfillment of employees
Beyond that, we are convinced that in order to make a product that appeals to as many people as possible, the diversity of our customers must be reflected in the diversity of our employees.
This is why the diversity of our product team is an indispensable pillar of our organisation.
We are still in the early stages of our long-term ambitions in this regard.
Parting words: Growth that benefits everyone
As you will have understood, the great difference in the Product team since my previous article is this new organisation, with a systematic triforce system that allows us to have real "startups" with a high degree of autonomy within PayFit. The team continues to grow, and while we are confident about the future of this organisation, it will continue to evolve over the next few years.
Beyond that, we are driven by a desire to always offer a better experience to our customers. We are still a long way from the product we want to offer, and we have a lot of work to do. The ambitions are high, the road is long, but the path ahead is clear!
What motivates us every day and allows us to look forward to the future is the pleasure we take in supporting our customers and working with PayFiters. The coming months and years will be exciting, and we will grow together!
---
by Florian Fournier, CPO & co-founder of PayFit.
Photo: "Cygnus Cargo Load for Orbital CRS-3"by NASA Goddard Photo and Video is licensed under CC BY 2.0.